Direct from Mother Nature - made with natural ingredients
PhytoflORAL® Pure 0908 Fine
(Golden Yellow Tomato)

PhytoflORAL® from non-GMO, yellow-golden tomato fruit – a specially bred and cultivated tomato to contain high phytoene & phytofluene levels. Dehydrated, powdered, and a source of phytoene, phytofluene and zeta-carotene, vitamin E and phytosterols.


No extraction process, no chemicals, and no additives are involved in this process.


By taking colourless carotenoids which stay in your skin and absorb UV A and B before causing damages to your skin and prevents new melanin formation. It will work systemically all over your body.


Phyto(flu)ene can block triggers and inhibit melanin synthesis.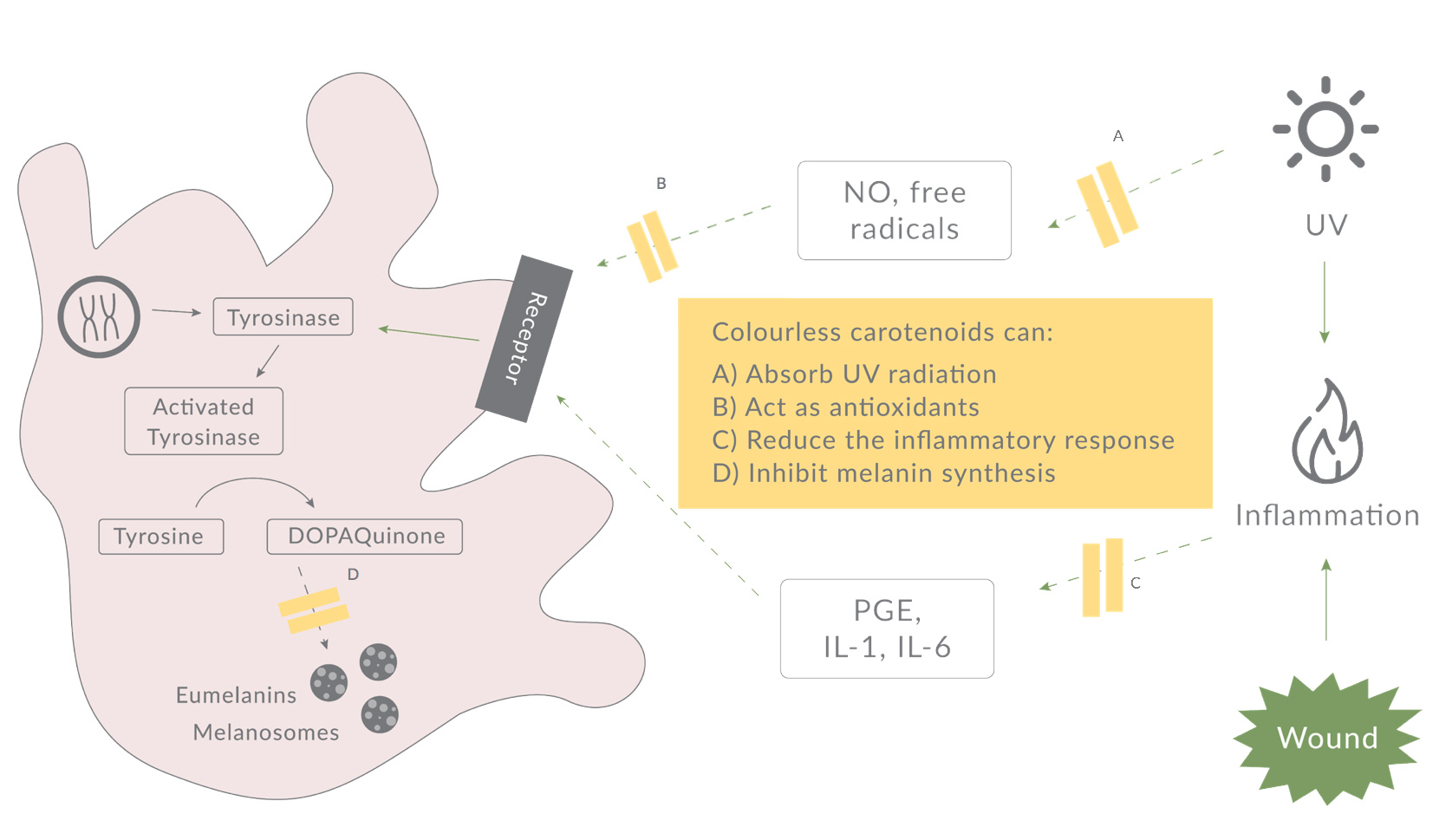 Japanese Spring Turmeric Root Extract

Tyrosinase inhibition to reduce melanin production.
Researched for over 15 years by Kindai University.

Effectively Suppresses Tyrosinase Activity, A Melanin Producer
---
Inhibits Melanin Activity By 88%, Causing A Brightening Effect


Researched Conducted By Kindai University, JAPAN
Scientific Name
Curcuma Aromatica
Main Components
Curcumenone, Curudione, Neocrudione, Curcumol



L-Cystine is a precursor of Glutathione, a potent antioxidant which plays an important role in the regulation of melanin production in our body. It also quenches free radicals generated by the sun and environmental aggressors to prevent skin darkening.


L-Cysteine (a compound used by others) has similar effects to L-Cystine, except that L-Cystine is naturally occurring and L-Cysteine is synthetic.



BioPerine® is made from black pepper, a natural bioavailability enhancer for increased absorption of nutrients. Its effect is "nonspecific", and can increase carotenoid absorption by 60%.